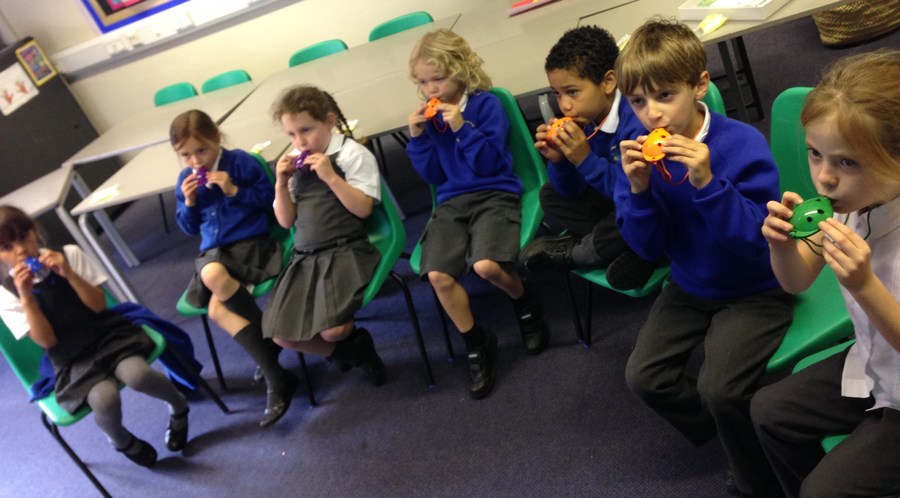 Music
All children are given access to music weekly.
Within music lessons children have the opportunity to listen to music, sing, play tuned and un-tuned percussion instruments, and participate in group music making activities. A wide variety of music is played during assembly. There is a whole school, weekly singing assembly, held on a Wednesday.
Bishopstone participates in the Early Years, KS1 and KS2 Swindon Music Festivals.
From January 2015 we have a new peripatetic music teacher joins the school on a Monday afternoon to teach Year 3 and 4 violin, Year 5 and 6 cello. This was a change from recorders and clarinets.
On a Friday a peripatetic teacher offers guitar lessons in the morning.
On a Tuesday a peripatetic teacher offers piano lessons in the morning.
The school also participated last year at Wembly Arena – Voice in a million. This year we participated in Young Voices at Birmingham Arena jointly with South Marston CofE School (and 6000 other children!)
Music is taught following the National Curriculum enhanced with various resources including Music Express and Dimensions Creative Curriculum. It is taught mainly on a Wednesday when our part time teacher, with a music specialism, is in school.
Key Stage 1

use their voices expressively and creatively by singing songs and speaking chants and rhymes

play tuned and untuned instruments musically

listen with concentration and understanding to a range of high-quality live and recorded music

experiment with, create, select and combine sounds using the inter-related dimensions of music.

Key stage 2

Pupils should be taught to sing and play musically with increasing confidence and control. They should develop an understanding of musical composition, organising and manipulating ideas within musical structures and reproducing sounds from aural memory.

Pupils should be taught to:
play and perform in solo and ensemble contexts, using their voices and playing musical instruments with increasing accuracy, fluency, control and expression

improvise and compose music for a range of purposes using the inter-related dimensions of music

listen with attention to detail and recall sounds with increasing aural memory

use and understand staff and other musical notations

appreciate and understand a wide range of high-quality live and recorded music drawn from different traditions and from great composers and musicians

develop an understanding of the history of music.
Calling all budding musicians!
To supplement our curriculum music lessons in school, instrumental lessons are also being offered from specialist teachers from Swindon Music Co-operative. These are paid-for services but financial assistance may be available for pupils entitled to free school meals.
Lesson options:
Lesson option

Cost per lesson

Group A Lesson (4 pupils in 30 minutes)

£4.00

Group B Lesson

(3 pupils in 30 minutes or 2 pupils in 20 minutes)

£5.30

15 minute individual lesson

£7.95

20/30 minute individual lesson

£10.60/£15.90
If you would like to find out more, please pick up an application form from the school office, or download one from www.swindonmusiccoop.co.uk. or the school website below. If you have any queries about lessons please call the Swindon Music Co-operative office on 01793 554747.
To go to the Swindon Music Co-operative website click below
Application form 2017-2018 click here
Dates for Piano Lessons 2016-2017 click here
Some indépendant ocarina learning!