GDPR - General Data Protection Regulation
General staff training on GDPR was given on 4th May 2018 as part of our INSET day.
Staff training from SchoolPro TLC given to all staff on 12th September 2018 by Ian Arkell.
The school receives two 'spot check audits' a year from SchoolPro regarding GDPR alongside regular updates and advice. Spot check 1 completed 10/1-/18.
Changes to GDPR come into effect on 25th May 2018. The Government have confirmed that the UK's decision to leave the EU will not affect the commencement of the GDPR.
New policies currently include:
Photography and Videos at School Policy
The school has an allocated DPO - Data Protection Officer (Mr Morley). This is through the company SchoolPro TLC. They can be contacted by email: GDPR@SchoolPro.uk. Their website is: www.schoolpro.uk. Telephone number: 07779235911
Please click here for the Privacy Notice (How we use Governor and clerk information)
Please click here for the Privacy Notice (How we use pupil information)
Please click here for Advice for parents guide on photography and videos (sept 18)
Please ask for our data map, if required, in person.
We are following the guidelines issued by the ico.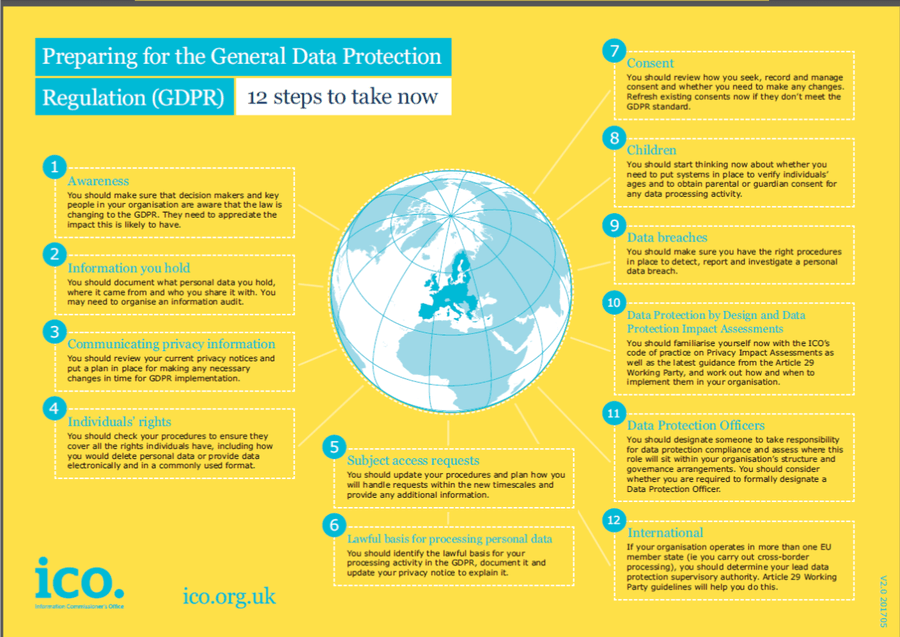 For further information you can follow this link to the ico webpage.