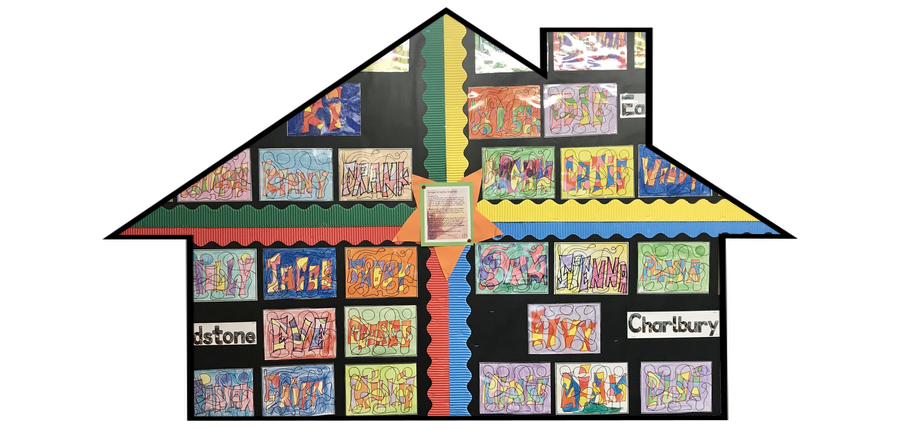 Bishopstone Church of England School is a rural community school, where children become the very best learners they can be.
It is a small school situated in the centre of a lovely downland village. It was established in 1849 and is still housed in the original Victorian building. It is an idyllic setting by the village pond and the children are able to gain from first-hand experience of the local environment. The school educates children from 4-11 years old. We have a strong relationship with Alfresco Nursery which is just 1/2 a mile from the school.
The school has just two classes, the Foundation Stage/Key Stage 1 infant class and the Key Stage 2 junior class.
The Infant Class (EYFS/KS1)
The Reception children, Year 1 and Year 2 are all taught in this class. Miss Pearson teaches with an educational support assistant to help with special needs, as well as other group and class work. The Reception children follow the Early Years Foundation Stage Curriculum (EYFS), whilst the National Curriculum is fully implemented for Year 1 and 2. Play is a very important part of life in the infant class. Very young children express their feelings through play. It is his or her way of developing new skills and building up relationships with other children, either singly or in groups. Children will use play as very important methods of introducing mathematical ideas such as sorting, counting, adding, taking away and multiplying. Therefore the infant classroom has facilities for role-play, sand and water play, art, science based investigation and creative play. Attached to the Infant classroom is the newer built 'Ark' which houses role play and a creative space for the children, this in turn leads out onto an outdoor area for the children to express themselves.
'Play is the work of children' - Jean Piaget.
The Junior class (KS2)
Years 3, 4, 5 and 6 work altogether in the afternoons, where Mrs Morris is the class teacher. However, in the morning the class is split into Year 3/4 and Year 5/6 for English and Maths, with Mrs Morris teaching Year 5/6 and Miss Lindsay/Mrs Golding teaching Yr 3/4. An educational support assistant works full-time with Mrs Morris, assisting with class, group and special needs work. The National Curriculum is fully implemented.
All teachers work very closely together on curriculum planning to ensure continuity and progression throughout the school. Within each class there is a mixture of whole class, group and individual teaching. With a wide age range in each class very special attention is paid to differentiated work for the children and we have the benefit of being able to group the children according to ability and not just age. The teachers are all experienced and skilled at differentiating work so that all children are stretched to the best of their abilities no matter what age.
There is a well-stocked library area with online access facilities, a wide range of cutting-edge technology equipment including desktops, tablets and iPads. Outside the building is a hard surface playground with play equipment. The village hall, immediately adjacent to the school, is used for many aspects of school life, including P.E., assemblies, teaching and for school concerts and performances. Adjacent to the school on the other side is the allotment area, on an island upon the pond. This is used within the school year and is the main facility for us to run our inspiring Forest School. The school also frequents the local church, St Mary's (500m away), for services, concerts and festivals.
Miss Lindsay, the Headteacher, has overall responsibility for Bishopstone CE School and also teaches in both classes allowing a knowledgable working relationship with the children.
Other staff members include our teaching support staff – Mrs Perkins and Mrs Warrick. Mrs Beales is based in the school office working Monday-Friday part-time. We are a small staff but at Bishopstone we all work together as a team, ensuring the children get the very best from their day. Your child's progress is our main priority and we will ensure that they reach their full potential whilst at Bishopstone.
"Bishopstone is a school where I can just be me" said a Bishopstone child