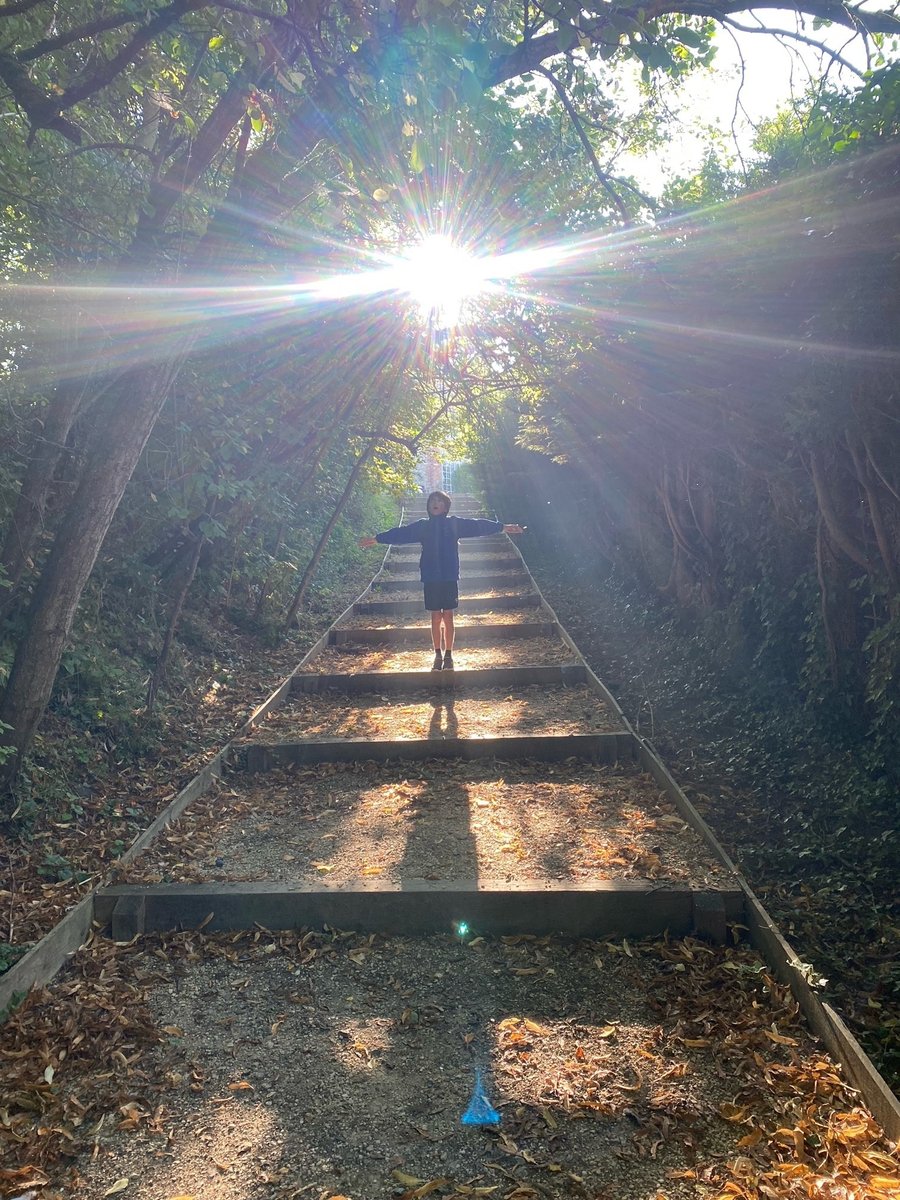 A beautiful picture shared with school for photography club. Walking in the local community. We felt this summed up life returning to 'normal', the ethos of our school being both grounded in the nature that surrounds us and reflecting our Christian personality.
September 2021
What we teach
At Bishopstone CE School we take real pride in offering a broad and balanced curriculum that excites and develops a wide range of qualities in each and every child. We follow the National Curriculum in all areas. This is supplemented by a bespoke curriculum created for us by 'Dimension Curriculums' which involves a three year rolling programme in EYFS/KS1 and a four year rolling programme in KS2.
As a staff we feel that learning should not just be confined to the classroom. We like to roam outside of the school as often as appropriate. Children need to engage in "their learning" in a wide range of situations and environments. Meeting high expectations and challenges set by not only their classroom teacher but also their peers through collaborative learning. This extends to taking part with children from within the school cluster (Wanborough, Chiseldon, Wroughton, East Wichel, Ridgeway Secondary) through to Swindon and further afield.
This in turn will not only foster independent but also life long learning allowing all students that move through Bishopstone CE School to reach their potential in the future.
Children also play a key part in this when in KS2 as we have 'pupil voice projects' where they lead which areas they would like to learn about, this year so far this has included dissecting 'poop' and identifying the animal, decoding Greek messages and not forgetting . . . dinosaurs! (Sept19)
For further information about our curriculum please either ring the school office or speak to your child's teacher. We are happy to show you further examples of the units we teach, alongside the schemes that we use. Teacher planning is also on the 'parent information' then 'timetables' tab.
In order to continually review our curriculum we invite feedback from parents via a questionnaire - Dec19. Please click here for a copy of the questions.
The document below shows the events that were built into 2018-2019 curriculum, both local and further afield.
Holistic Experiences 2019-2020:
Teddy Bears picnic, Ancient Greeks Day, Ancient Egypt workshop, Junk Orchestra, Moon rocks visit, Victorian Christmas Day, Oxford synagogue, Living Rainforest Newbury, Chippenham Archives, Winchester science centre, SS Brunel, Bristol Aquarium, Avebury
Unfortunately a majority of the above were cancelled due to Covid19, however we did complete the following prior to lockdown: Sport's Afternoon, Moon rocks visit, Evacuee Day and Ancient Greek Day, ,Teddy Bear's Picnic KS1,Ice-skating for KS1, ,Swindon Wildcats visit and tickets to the ice rink, Junk Orchestra workshop, Football Tournament, Christmas fete and bake sale, Whole school careers week, Dakota talk and workshop, Science at Pinewood, Great Bishopstone Bake Off, Grandparents afternoon, Miss Pearson speaks from Kenya, Wyvern Dance Festival KS2
Holistic Experiences 2020-2021
These have been minimal and many cancelled from March 2020 through to July 2021 due to the pandemic. We have been able to utilise the internet to allow some to remain including:
NSPCC, Safer Internet, Author visit in school, Chemistry online workshop (Pinewood link), Roman experience day in school, Online 'meet the author' experience - Literacy festival, Skipping workshop, Children in Need, World Book Day, Team building in school, PGL LIddington, Rock and Pop roadshow
I hear, and I forget. I see, and I remember. I do, and I understand. - Chinese Proverb