Art
In Bishopstone we aim to:
produce creative work, exploring their ideas and recording their experiences

become proficient in drawing, painting, sculpture and other art, craft and design techniques

evaluate and analyse creative works using the language of art, craft and design

know about great artists, craft makers and designers, and understand the historical and

cultural development of their art forms.

Children also take part in activities to develop the environment around them by using their artistic skills. They have decorated the porch and inside corridor by working with a local artist - Helen Cooper, creating work based on the surrounding village in different mediums. KS1 and KS2 have worked with another local artist - Sue Walton, to create work for the Wyvern Theatre in Swindon for Christmas and on individual year group projects.
Studying other artists . . . .April 2018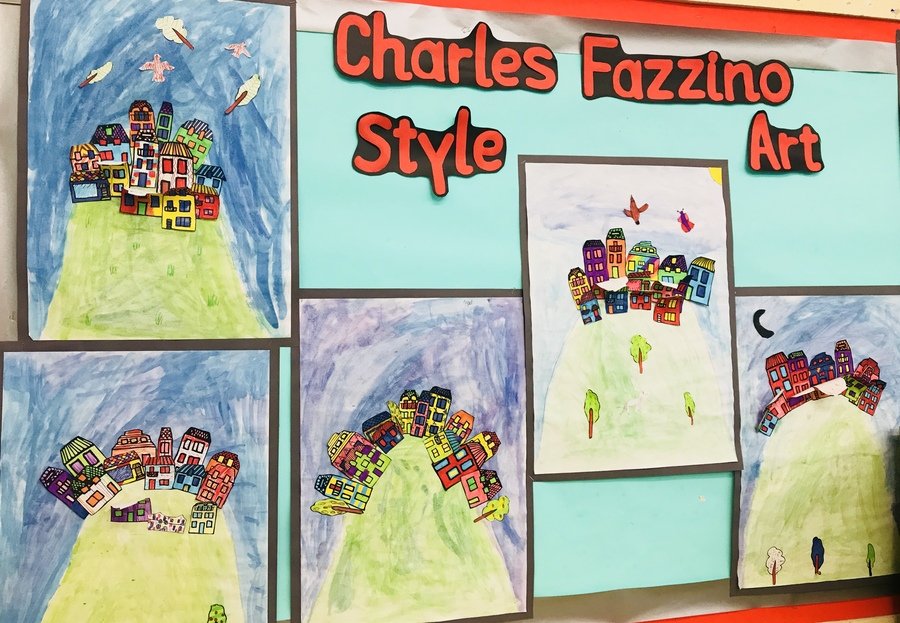 Indian Art led by local artist Sue Dent - Nov/Dec 2017
Autumn 2017
We collected leaves, created a collage then took photographs which were closely cropped and transferred to computer. We then combined, blended and overlapped the images to create a "Walk Along an Autumnal Path" Here are two examples:
In January 2016 the children worked in year groups with a specialist art teacher who created mini projects with them, over several afternoons to continue to inspire and hone their art skills:
FS - Gingerbread clay sculptures
Yr1 - Abstract wood scuplture
Yr2 - Abstract plaster of paris balloon sculpture
Yr3 - Repujado wall hanging
Yr4 - Giacometti style figure statues
Yr5 -Giacometti style figure statues
Yr6 - Clay heads on wooden pedestals
All the work then went on display in the 'Bishopstone Gallery' (the Village Hall) for an art gallery experience to which the whole community was invited.
Year 4 working on the winning 'cat' ready for the Wyvern Theatre with local artist Mrs Walton